December 12th, 2018
It has been quite a long time since we have posted on our page... Life tends to speed up and get ahead of you... We have been extremely busy (Blessed) with loads of work and have had some amazing moments and inspiring meetings to share... Here is a new watercolor, charcoal and sage wash painting dedicated to the inspiriting Bob Marley, one of music's most influential artist's
December 2nd, 2012
This blog will consist of updates regarding the limited edition "artist cut" volume of the book, The Iconic Images Collection of Famous Faces and Infamous Places. TM / Copyright David Pucciarelli 2007-2012.

The Iconic Images Collection coffee table styled book, combines original photographs, art works and essays, celebrating the most famous faces and infamous places, which have fascinated and inspired the human spirit. Artist David Pucciarelli recognizes the heroes and legends, venues and studios, which have witnessed extraordinary events and creative genius. A testament to those who dared believe in themselves, sacrificing and striving for personal and unified triumph. Those whose works and achievements have spanned the generations, awakening and inspiring the creative mind in others. Some of the 175 personalities and subjects range from the Beatles, Stevie Ray Vaughan, original Yankee Stadium, Mickey Mantle, and Ernest Hemingway's Studio.

August 5th, 2011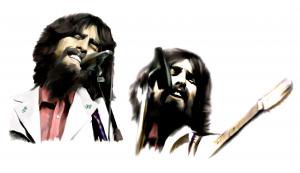 "True art comes from true agony..." haunting words from the immortal artist/musician, Stevie Ray Vaughan echo through my mind and tap into an area of creative drive and even personal cleansing and of self-realization that I'd never known...

Well, it sure has been a while between blogs, however, that will change starting right now! I will be blogging here at least two to three times per week... First off, I wished to thank my fellow artist for taking the time and reviewing my works and esp., for the compliments! Very much appreciated... Each and every one of you that has do so, well, I am moved by the talent each of you has. Your works are remarkable and captivating, very moving, beautiful in quality and detail... Thank you again!!

I would like to mention to everyone out there, both my peers and those of you who have purchased my works through this site and via the additional avenues in which my work is sold; I cannot thank you enough. Means the world to me to know that other people think so highly of my work and subject matter, that you would want to purchase it... Within the next few days, I will be announcing, and publicly listing a new book that is in the works which includes art works, photographs and essays of the many famous faces and in-famous places that for one reason or another, have captured my imagination, sparked the match to lite my creative passion, and saw me through some life altering and very bleak periods in my life... If not for their music, written words and works of art, I might never have made it this far, nor found my way home... If my faith sustains me, then the works and sound-scapes of those that I admire, ease the daily pain and continuously touch my creative soul...

With my new, first ever blog I will strive to reveal the role personal agony and tragedy, play in bringing out our creative eye, and developing a way of exercising our demons, hurt, failures and agony through the creative process... My name is David (Dave) Pucciarelli. I am a self-taught professional artist/photographer whom like millions the world over, have suffered some Hellish setbacks, and heartaches, losses and physical and mental agonies that have sought to destroy the very person I am... I hope in some way, this blog guides others to realize just how important the creative process can be.

I will inject quotes of example and inspiration from my heroes, the famous and the every day person who strives to survive... "One must endure to survive..." Ernest Hemingway.... I open my blog to all to take part in... My bio in part: I am the in house artist for the Mickey Mantle Baseball Organization, Commerce, OK. A top selling artist at the Ernest Hemingway Museum, Key West and my works are associated with Goose Gossage, Don Mattingly, The Knievel's, VP of the Baseball Hall of Fame, to name a few. I have had the additional Blessings of having sold thousands of my works across the globe; I have also felt the vapor of Death's breathe head on, two times in my life. I have stumbled failed many times over, some because of my own ignorance, other times through other people's utter fraud... Until my next entry; God Bless those in need and who strive to better themselves; and Lord take Vengeance to those who seek to harm and cheat...